In the course of researching promotional products each week, I always come across one or two that seem ideal for authors and booksellers. I'm looking for items that are small, easy to transport, that could express the design or theme of a book, and that readers will appreciate, use, and keep. This week's product is a printed microfiber cloth. They're really easy to pack for a book signing (or a tour!), whether you're flying or driving, they're lightweight and have many uses. You've probably bought one or two of these or received one with a new pair of sunglasses. But did you know you can get them from a promotional products supplier, printed in full color to look just like your book's cover? Or maybe with a list of all your published titles, or maybe a photo on one side and a blurb from your book jacket on the other? You can have one printed with a QR code that will take their smart phone right to your author website or book order page online.
Microfiber Cloths are perfect for cleaning those reading glasses, Kindle or Nook screens, iPods, iPads, Smart Phones, computer and TV screens, DVD's, and more! Everyone needs one, and you can be the one to provide it. And... they can look like
anything
you want them to.
Here are some examples.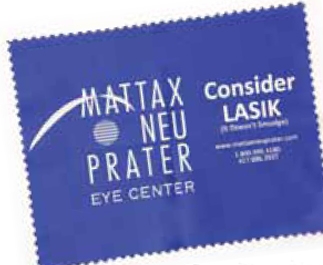 Promotional products like these cannot be bought directly from a supplier, but may be ordered through a distributor, also called a promotional or marketing consultant. They're pretty easy to find, but if you're having trouble locating one, contact me, and I'll be happy to put you in touch with someone. As I've mentioned before, I don't make promotional products and I don't sell them, I only report on them each week for my "day job" as writer and host of the Industry Show.
You can expect to pay around $1 or $2 dollars for each microfiber cloth when you buy in bulk, plus an initial setup charge. Not as low-cost as a bookmark, but more memorable.